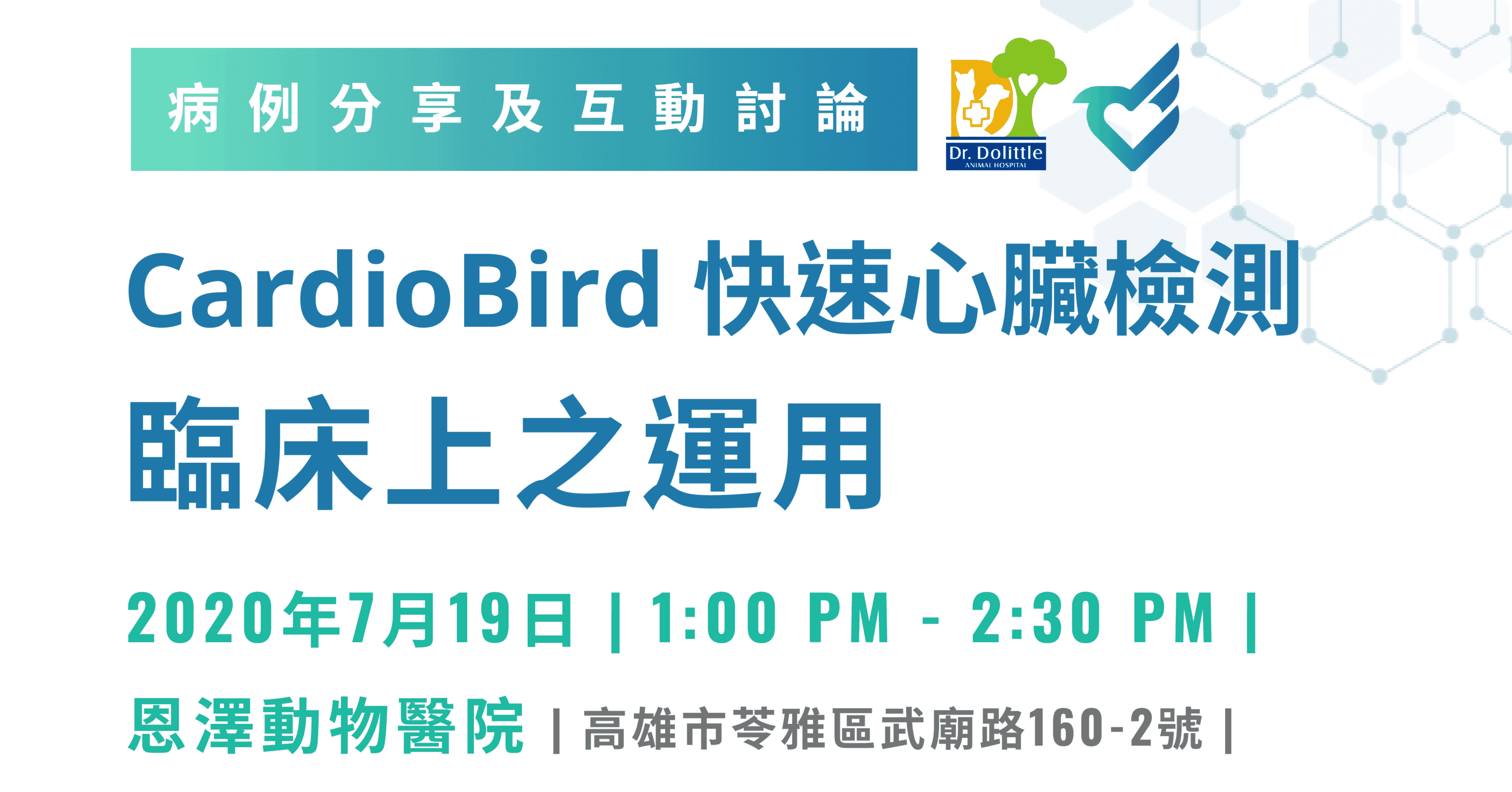 Presenter Information:
I-Ju Ho, DVM, MS
Doctor of Dr. Dolittle Animal hospital
I-Ju Ho received her veterinary degree from National Chia-Yi University, Taiwan in 2013. She then entered an internship and completed a small animal internal medicine residency at National Chung-Hsing University from 2013 to 2017. She received her master's degree from National Chung-Hsing University.
Education:
BS (Sports medicine)- Kaohsiung Medical University, 2009
VMD- National Chia-Yi University, 2013
Master of Science, Clinical Veterinary Medicine, National Chung-Hsing University, 2018
Postgraduate Education:
Rotating Internship, National Chung-Hsing University, 2013-2014
Small Animal Internal Medicine Residency, National Chung-Hsing University, 2014-2017
Topic: Clinical application of CardioBird Cardiac Assessment
For this online course, we've invited Dr. I-Ju HO from  Dr. Dolittle Animal Hospital. As a primary care veterinary, Dr. Ho shares her experience to introduce the importance of cardiac assessment in daily practice and shares different clinical cases of CardioBird rapid cardiac assessment. Please click the link below to start this course and type" 獲得講義" in the messenger bubble down below to get the handout.
01-

ECG application introduction for Primary care veterinary
02-

Clinical cases sharing
03 

FAQ & Case discussion from other hospitals
Learn more
Rapid Cardiac Assessment at Primary Care – Sharing by Internal medicine veterinarian Dr. I-Ju Ho
http://35.73.234.52/sharing-by-dr-ho/
How can AI help veterinarians break through limitations on heart assessments for pets?
http://35.73.234.52/ai-cardicassement/
Solutions fo veterinarians
https://www.cardiobird.com/wp-content/uploads/2020/08/線上課程影片—-CardioBird-心臟快速檢查-臨床上之應用.jpg
788
940
SEO_manager
/wp-content/uploads/2020/04/aniwarelogo.png
SEO_manager
2020-08-24 14:54:34
2021-05-12 17:47:09
[Online Course] Clinical application of CardioBird Cardiac Assessment